Private Lessons ~ Matwork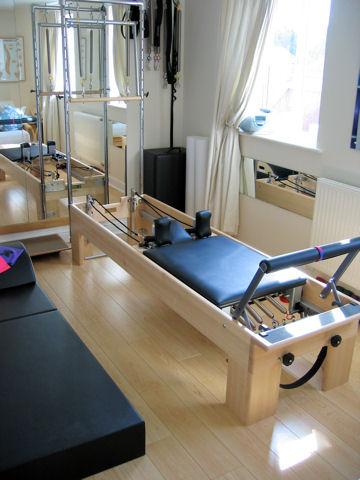 Private lessons are taught at the Equipment Studio, Evesham & are 1 hour in length.
The Studio is a bright, calm & relaxing environment where clients are taught to think for themselves, understand the way their body moves & functions.

All private tuition begins by covering the main principles of the Pilates Method, including alignment, breathing & core stability [ABCs].

Regular private Matwork lessons are available where you can benefit from 1:1 tuition or share the lesson with a friend or partner.
Lessons are designed to suit your individual requirements & abilities.

Private Lessons ~ Studio Equipment
Once you have mastered the principles of the Pilates Method on the mat, fun & challenging private lessons are available on the
Reformer
&
Trapeze Table
[Cadillac].
The Reformer & the Cadillac, are two piece of
classical Pilates equipment
, designed by Joseph Pilates to perform his exercises correctly, improving posture, increasing strength, flexibility & spinal length. They also encourages you to work from a strong stable centre.
Enrolment
To book your first lesson telephone or
email
Before attending your first lesson please complete a
Health Summary Form
which will allow your teacher to access your ability & to make changes to exercises to suit your requirements.
If appropriate & with your permission, your teacher may liaise with your practitioner.
"If your spine is inflexibly stiff at thirty, you are old. If it is completely flexible at sixty, you are young"
Joseph Pilates